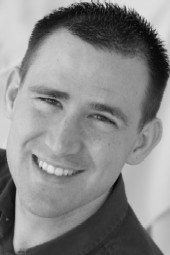 Matthew Peterson

Upcoming Events
Aug 6 -10, 2008
World Science Fiction Convention Denver, Colorado
I'll be speaking in a Publicity panel
Aug 30, 2008
CopperCon 28
Phoenix, Arizona
I'll be doing a book signing
Oct 30 - Nov 2, 2008
The World Fantasy Convention
Calgary, Canada
I'll be doing the September podcast
Nov 21 - 23, 2008
Tri County Comic Con
Orlando, Florida
I'll be the guest author

Website Links

Home Page
www.ParaWorlds.com
Forum
www.ParaWorlds.net
MySpace
www.MySpace.com/pworlds
Hi there! I got my bags packed and Iím ready to go to the World Science Fiction Convention (Denvention3) in Colorado. It should be fun. Iíve been asked to speak with Ben Bova and few others about the author/publisher roles of publicity. I feel bad for my wife, though, because our air conditioning unit just died and sheís going to have to deal with that while Iím gone. No A/C in the Arizona summer sun is a bad thing, especially with five young boys! They're all sleeping in the living room right now.
---
Hollywoood Book Festival Honorable Mention
Four book contests have honored Paraworld Zero so far. The latest honor came from the Hollywood Book Festival in the Teenage category. I've only entered one other book contest, so this will probably be the last contest I'll talk about for a while. It seems like I announce a new honorable mention in every newsletter!

Writing Contest Tips: Most book contests have a fee involved. Even the Pulitzer contest requires a fee. Some fees can be as high as hundreds of dollars per category. However, if you are serious about placing in a contest, you should enter more than one category. Since there are often different judges for each category, your odds of winning will be increased.
---
Paraworld Zero Audiobook Offer Extended!
Because of ongoing demand, Iíve decided to extend the deadline until August 15th for the $5 audiobook offer that I talked about in the last newsletter. After that, the price is officially going up to $29.95 for the basic MP3-CD and $39.95 for the MP3-DVD. To order, go to http://paraworlds.com/sample/

but instead of using the coupon found on that page, use this coupon instead: newsletter08cd

If you want the premium DVD, Iíll give it to you for $8. Just use this coupon: newsletter08dvd

Audiobook Websites: If you like popular audiobooks, try using Audible.com. It is by far the best site Iíve found. For older books in the common domain, go to AudioBooksForFree.com. PodioBooks.com is a good site for newer, less-known authors.
---
My 21-month-old son, Jared, is doing so well. Itís absolutely amazing. After all of his surgeries in June, he suddenly started eating solids. No bottle. Just went right to solids! Now, the only time he gets tube-fed is at night, when heís sleeping. You can see his plastic ďsecond bellybuttonĒ in the picture to the left, as well as the scar from his heart surgery. He also loves to swim but his eyes are sensitive, so he wears those groovy sunglasses. He has Noonan Syndrome. Thatís why he looks a little different (i.e. lower ears, webbed neck, concave chest, droopy eyes, etc). He's also starting to stand up with help. He still won't crawl or go on his stomach, but he has learned to scoot on his rear. Like eating, he'll probably just go right to walking and skip the crawling stage!

Approaching Handicapped Children in Public: Okay, so I canít have a section without some sort of tip or advise, right? One thing that people need to be cautious about is pointing, staring and frowning at a disabled child. Believe me, we (the parents) see your expressions. We even overhear your whispers. Iím surprised at how rude some people can be, even though we're standing right there. My wife and I have grown thick skins over the past two years. The best thing, in my opinion, is to just smile. We know our child looks different. Smiling just lets us know that you care. That youíre not judging him or us. We're not sensitive about his condition, so you can ask questions. If appropriate, come and talk to us. Talk to our child. Play with him. He doesnít bite... much!
---
What are these Alien Flowers doing in my Garden!?
Okay, so this is a weird one. Can you guess what type of plant this is? Not in a million years would I guess that these were artichokes! Straight from our garden. This is what happens when you donít pick them in time. A crazy flower blossoms from the top. You canít see them from the picture, but we also had a bunch of 10-foot sunflowers. It was heaven for all of the birds. We actually got the seeds from them. They taste pretty good. Donít ask me what my wife was thinking this year, but we have a bunch of crazy stuff in our garden.

Gardening Tip: Hey, I have a great tip for when you are planting trees, bushes, or delicate plants. Thereís a liquid vitamin mixture (I think itís Vitamin B) you can use to strengthen the roots. That stuff does wonders. The guy at Home Depot told me that my boysenberries would never grow in the Arizona heat, but after using that vitamin mixture when I planted them, they took off like a rocket. I got over 20 lbs of berries the first year!
---
| | |
| --- | --- |
| | |
| | Well, I hope you've enjoyed this newsletter. I hope to put some personal stuff in the future ones as well. By the way, I was invited to be the guest author at the Tri-County Comic Con. They're going to fly me to Florida for the convention, where I'll probably speak and sign books. I plan on doing a bunch of school visits as well next month, so if you know of a school that needs an author to visit, please tell them about me, and I'll be sure to give them a special discount from my normal fee schedule. Until next time! |