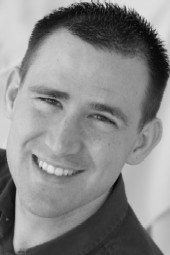 Matthew Peterson

Upcoming Events
Jan 28, 2009 at 6:30–8:30 pm
Glendale, AZ Foothills Library
"So You Want to Write Sci-Fi"
Mar 3, 2009 at 6:30-8:00 pm
Palm Springs, CA Public Library
Author presentation/signing
July 2-5, 2009
FiestaCon (WesterCon 62)
Tempe, AZ

Website Links

Home Page
www.ParaWorlds.com
Forum
www.ParaWorlds.net
MySpace
www.MySpace.com/pworlds
Get a copy of Paraworld Zero

Paperback, Audiobook, E-Book
Click here for links to stores
Happy Holidays! Despite the economical climate, it's still a fun time of year. I spent Thanksgiving in Utah, but there wasn't any snow. We had a great time anyway. I can't believe how fast the year went by. Christmas is just around the corner!
---
I Need Your Help: Must . . . Get . . . Reviews!
Paraworld Zero is finally on iTunes and Audible (the largest audiobook website in the world). Yahoo!

Use the special links above to get it for the best price. With those links, the downloadable audiobook is even cheaper than the paperback edition. Crazy! You can also get the physical audiobook from your local bookstore (ask them to order it for you), directly from me (Click Here), or from Amazon.

My audiobook is already getting good reviews, but I need your support. If you've ever read or listened to Paraworld Zero, please do me a favor and give it a short review and nice rating on AudibleKids.com (it doesn't cost anything). Thanks for your support!

Places to Post Book Reviews: There are a ton of places online to post your book reviews, but Amazon and Barnes & Noble are the biggest ones around. Go to http://ParaWorlds.com/reviews/ for a list of sites to post your book reviews.
---
Tri County Comic Con / JaniCon in Orlando Florida
I was one of the guest authors at the Tri County Comic Con / JaniCon last month in Orlando Florida. I had never actually been to a comic book or to an anime convention, so it was a new experience for me. The Marriott hotel was enormous, but the food was terribly expensive. I had a lot of fun.

I was able to socialize with actors like Jeffrey Breslauer (The Muppets, voice of The Joker at the Six Flags Amusement Parks). I had dinner with Lori Alan (Sponge Bob, Fantastic 4, Family Guy, etc.) and Gregg Berger (Garfield, GI Joe, Transformers, etc.), and I was able to pick their brains about doing character voices and narration. I actually met Lori at the shuttle to the hotel, just by striking up a conversation with her. I didn't know who she was at the time, so I was surprised to find out that she was one of the fellow celebs at the convention. What a coincidence. Talking with people sure does wonders for one's career. I struck up another conversation with a stranger at the airport, and he invited me to be on his TV/radio show in Arizona, where I live. Cool!

Several TV websites interviewed me, so I'll post them if I can find them. Oh, and NarniaFans.com interviewed me last week. You can read the interview HERE.

Anime vs Comic Book Fans: I discovered a huge difference between anime conventions and comic book conventions. For one thing, I noticed that the anime people were the main ones dressed up in costumes. They also didn't read or spend as much as the comic book people. Keep those things in mind before you choose a convention.
---
Paraworld Zero (eBook) on the Amazon Kindle and Sony Reader
I forgot to mention last month that Paraworld Zero is now on the Amazon Kindle. So now the E-Book is on the Sony Reader and the Amazon Kindle. I don't own either of those devices, but I've seen them, and they're really cool. One thing you might not know is that you don't actually have to have a Sony Reader to read the Sony E-Books. You can read them on your computer.

Horrible Month for Publishing: The publishing world had probably the gloomiest month it has ever had. Cutbacks, freezes on wages and acquisitions , layoffs, reorganization, etc. have been happening left and right. What can you do to help? Keep purchasing books and encourage people to read. Publishers and authors are compensated with every new book sold, online and at brick and mortar bookstores (although not necessarily from used book sales).
---
My 2-year old just started to say 2-word sentences. They're mostly combinations of "blank Dada" like "Hi Dada" and "More Dada" and "Bye Dada." It's very cute to see him do sign language and say the words at the same time. As you can see in the picture, he always has one of his 4 brothers close by--usually too close by.

Christmas this year is going to be low key for my family. We're kind of in the scrimping phase right now, since our income is in limbo (Other than a small token payment, my publisher never paid me like they said they would -- arrrg!). We'll have fun, nonetheless. One of my boys (the older one in the picture) wants SNARL (a Transformer) for Christmas. We found an $18 version and an $80 version. Guess which one he's going to get?

Personal Trivia: Although we use them all the time, my wife and I have never paid a cent of credit card interest in our lives. We always pay them off every month. The only debt we have is our house payment.
---
| | |
| --- | --- |
| | |
| | Well, as the holidays approach, I hope you will all look for ways to serve others. I had the opportunity to go to a cummunity service project with my whole family last week, and it was great to see my children help the down trodden. Who knows when you'll be the one needing help some day. Happy Holidays! |