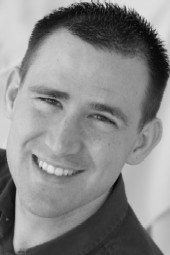 Matthew Peterson

Upcoming Events
July 2-5, 2009
FiestaCon (WesterCon 62)
Tempe, AZ

Website Links

Home Page
www.ParaWorlds.com
Forum
www.ParaWorlds.net
MySpace
www.MySpace.com/pworlds
Get a copy of Paraworld Zero

Paperback, Audiobook, E-Book
Click here for links to stores
This is a special week for many reasons: it's Mothers Day and two of my boy's birthdays! To all you mommas out there, Happy Mothers Day! I read somewhere that more than 90 percent of all men get their Mothers Day, birthday, and anniversary gifts the night before the big day. I guess I fall in the category sometimes... but at least I don't forget!
On the writing front, Paraworld Zero just got a couple more reviews. I'm shocked that they keep trickling in. Here are some snippets from them:
"It has uniquely original concepts... Packed with Star Wars-like duels and terrifying creatures, it is a great cross between fantasy and sci-fi."
– Brattleboro Reformer (Vermont newspaper)
"Over 100 unique character voices are present in this stirring audio adaptation that the whole family can enjoy, perfect for long car trips. Highly recommended."
– Midwest Book Review
---
Final event for Paraworld Zero... or is it?
Another momentous occasion happened last month: My family came to visit me at one of my book events! That was the first time they've ever done that. I don't blame them, since I've toured in 8 states and 2 countries so far. Funny thing is that it was basically the last event I scheduled for Paraworld Zero. Actually, my wife did make it to a couple of my bookstore signings, which was a huge help, since over 100 people showed up at the first one and we sold 70 books in 2 hours. This year, the Grand Desert Days event in Morristown, AZ was much better than before. Last year, I locked my keys in the car and I had to get a fireman at the festival to jimmy the lock. How convenient!

Observation: I've learned from past book fairs that the more professional you look, the better response you'll get. I ended up selling a ton more books than everyone else, and I'm guessing that my banner and book stand had something to do with that.
---
Magical Learning is in my Agent's Hands!
I finished the main editing of my second book, Magical Learning, and I sent it to my agent last week. Now I have to wait for her to read it and pass it along to a publisher. I've got my eyes on Arthur A. Levine Books (an imprint of Scholastic). I think they'd be the best fit. Now, if I can just get them to read it...

Update on Website: Later this month, I will be revamping my website, paraworlds.com. I plan on including some content for aspiring authors. Keep your eyes open for it.
---
Last month something very bizarre happened with my two-year-old boy, Jared. On Sunday morning, he woke up with a large rash/bruise on his belly. It looked like he'd broken a rib or something. He was in excruciating pain. My wife took him to urgent care and they said it was Roseola. I did some research online and quickly realized that they had misdiagnosed him, so we took him to the E.R. This time, they said it was shingles. Again, I did research and found that shingles come many years after you've had the chicken pox and it's almost unheard of in little children. Shingles are triggered by low immune system and old age. My boy is only 2-years old! Anyway, my family prayed really hard for him and I gave him a priesthood blessing (something we do in our church). My wife took him to our family doc on Tuesday morning and told him about how awful the rash was. When she raised his shirt, the rash was virtually gone and so was the pain. What a surprise! Needless to say, she was embarrassed. Shingles take months and even years sometimes to recover from... not three days. All I can say is that I'm thankful for miracles.

Quote I heard once: "There are no atheists in foxholes."
---
| | |
| --- | --- |
| | |
| | Well, that's about it for this newsletter. Hope you all enjoy Mothers Day weekend. I'll keep you posted on Magical Learning. Until next time. Adios! |