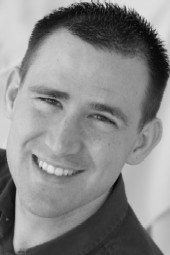 Matthew Peterson

Website Links

Home Page
www.ParaWorlds.com
My Radio Show Page
www.TheAuthorHour.com
Thursdays at 9 am PST / noon EST
Next Show: Oct 15th with Terry Pratchett, Eoin Colfer, Jody Lynn Nye, and Piers Anthony
Forum
www.ParaWorlds.net
MySpace
www.MySpace.com/pworlds
Get a copy of Paraworld Zero

Paperback, Audiobook, E-Book
Click here for links to stores
Happy Columbus Day! Yahoo! My radio show launches this week (Thursdays at 9 a.m. pacific / noon eastern). Iím so excited and a little scared. No, I'm not nervous to interview world-renown authors like Anne Rice, Terry Pratchett, and Meg Cabot but I have so many things I still need to do before the show airs. Hard to believe, but Iíve got over 50 best-selling and award-winning authors lined up for the first season. Check out my list below and youíll see that it reads like the whoís who in speculative fiction. Listen to the live show on VoiceAmerica.com or catch the show in the archives. Iíll also have bonus questions and transcribed interviews at www.TheAuthorHour.com.
Because I only send my newsletter once a month, I'm giving people the option to sign up for my weekly eCard notice for the radio show. If you'd like to get short weekly emails of the guests I'm interviewing each week, please Click Here. You can also send eCards to your friends (or yourself) by going to one of my episodes on VoiceAmerica and by clicking the eCard button on the bottom right of that page. Now's the time to spread the word about the show! Please tell everyone you know and add a link to http://TheAuthorHour.com on your website or blog. I've also created a way-cool flyer HERE that you can send to people or print for your library, school, or bookstore. Oh, and do check out the new video I created for my homepage. I think I might create a short intro video for every episode. If only there were more hours in the day. Soon, this will all calm down and I'll have more time to write and actually pursue a new publisher/agent. Yeah!
---
The Author Hour radio show launches Oct 15th!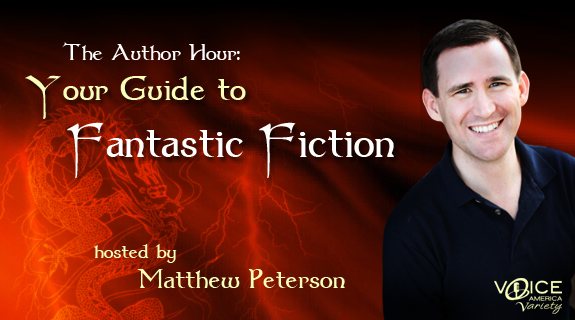 Oct 15: Satire, Puns, and Humor

Satire, Puns and Humor

Eoin Colfer, Terry Pratchett, Jody Lynn Nye and Piers Anthony join Matthew Peterson on a fun-filled episode of The Author Hour: Your Guide to Fantastic Fiction. Meet some of the funniest authors of our time: Eoin Colfer (NY Times bestselling author of the Artemis Fowl series as well as the highly anticipated conclusion to Douglas Adams' The Hitchhikers Guide to the Galaxy entitled And Another Thing), Terry Pratchett (international bestselling author of the Discworld series with over 65 million books sold), Jody Lynn Nye (continuing Robert Asprin's Myth-Adventures series and co-author of several novels with Anne McCaffrey), and Piers Anthony (NY Times bestselling author of the Xanth series). Millions of fans have enjoyed the satire, puns, and laugh-out-loud humor from their books. Now come and hear what these authors have to say on The Author Hour. And donít forget to visit http://TheAuthorHour.com to catch bonus questions that didnít make it onto the live show.

Oct 22: Strong Female Characters / Romantic Elements

Diana Gabaldon (International bestselling author of the Outlander series, 15+ million sold)
Meg Cabot (#1 NYT bestselling Princess Diaries, Airhead, Allie Finkle's Rules, 15+ million sold)
Shannon Hale (NYT bestselling/Newbery Honor author of Princess Academy, ALA Teens' Top Ten)
Kristin Cashore (Graceling, Publishers Weekly and SLJ Best Book of the Year)

Oct 29: Faeries

Holly Black and Tony DiTerlizzi (NYT bestselling Spiderwick Chronicles)
Melissa Marr (NYT bestselling author of Wicked Lovely, Ink Exchange, and Fragile Eternity)
Maggie Stiefvater (NYT Bestselling author of Shiver, Ballad, & Lament)
Aprilynne Pike (NYT bestselling author of Wings, optioned Disney movie with Miley Cyrus)

Have a Suggestion for the Show? Some of you gave me suggestions of authors to interview. Thanks! Keep 'em coming! This season is filled up but I still need next season. Also, if you have certain questions you'd like me to ask a particular author, then let me know.
---
In the future, I'll just list my guests for the current month, but for this first newsletter, I'm going to give you the rest of the season. Our production team is also going to create some cool eCards that I can send out every week. CLICK HERE if you want me to send you an eCard every week regarding the show.
Upcoming Schedule (some shuffling might occur as new guests are added to the list)
November 2009 (3 shows and one rebroadcast during Thanksgiving)

Nov 5: Quest/Adventure Fantasy

Terry Brooks (NYT bestselling Sword of Shannara, Magic Kingdom of Landover, 21+ million sold)
Brandon Sanderson (continuing Robert Jordan's Wheel of Time series which sold 45 million copies)
Tracy Hickman and Margaret Weis (NYT bestselling Dragonlance series, 22+ million sold)
R. A. Salvatore (NYT bestselling author of The DemonWars Saga, Forgotten Realms, 10+ million sold)

Nov 12: Classic Fantasy and Science Fiction

Ursula K. Le Guin (The Earthsea Cycle, Newbery/National Book/World Fantasy/Nebula/Hugo awards)
Brian Herbert and Kevin J. Anderson (NYT bestselling Dune, X-Files, Star Wars, Superman/Batman)
Anne Rice (International bestselling Vampire Chronicles and Mayfair Witches, 100 million sold)
Orson Scott Card (Bestselling Ender's Game, John W. Campbell award, multiple Hugo/Nebula winner)

Nov 19: Vampires

Charlaine Harris (NYT bestselling Sookie Stackhouse series / True Blood on HBO)
L. J. Smith (The Vampire Diaries, now a TV series)
Laurell K. Hamilton (#1 NYT bestselling author of Anita Blake: Vampire Hunter & Meredith Gentry)
P. C. and Kristin Cast (NYT bestselling author of House of Night series)
December 2009 (5 shows)

Dec 3: Urban Fantasy/Supernatural

Sherrilyn Kenyon (AKA Kinley MacGregor, #1 NYT bestselling author, 20 million books in print)
Kelley Armstrong (NYT bestselling author of The Otherworld series and Darkest Powers series)
Charles de Lint (award-winning author of over 60 books)
Patricia Briggs (#1 NYT bestselling author of Mercedes Thompson and Alpha and Omega series)

Dec 10: YA Fantasy

James A. Owen (Here There be Dragons, Starchild comics)
Frank Beddor (NYT bestselling Looking Glass Wars novels, producer of There's Somthing About Mary)
John Flanagan (Ranger's Apprentice series)
James Dashner (The 13th Reality series, Borders Original Voices pick)

Dec 17: Children's Fantasy

Tony Abbott (The Secrets of Droon, Golden Kite award, 80+ books, over 10 million sold)
Bruce Coville (My Teacher is an Alien and The Unicorn Chronicles, 95+ books, over 12 million sold)
Diane Duane & Peter Morwood (NYT bestsellers, Young Wizards series, Star Trek, over 50 books)
Kate DiCamillo (Newbery award-winning author of Because of Winn-Dixie, The Tale of Despereaux)

Dec 24: High Fantasy

L. E. Modesitt Jr. (bestselling author of over forty novels)
Carol Berg (winner of the Mythopoeic, Prism, Geffen, and Colorado Book Awards)
Dennis L McKiernan (Mithgar series, the Faery series)
Diana Pharaoh Francis (Path and Crosspointe series)

Dec 31: Fantasy

Brandon Mull (NYT bestselling author of the Fablehaven series and Candy Shop War)
Maria V. Snyder (NYT bestselling author of Fire Study, Booksense Pick, Audible Editor's Pick Award)
Obert Skye (The Leven Thumps series, Benjamin Franklin, ForeWord Magazine & iParenting Media Award)
Esther Friesner (Nebula award winner and editor)
January 2010 (2 shows)

Jan 7: Military/Hard Science Fiction

Joe Haldeman (The Forever War, 5 Hugo Awards, 5 Nebula Awards, former president of SFWA)
David Drake (bestselling Hammer's Slammers series, Lord of the Isles series)
David Weber (NYT bestselling Honor Harrington series)
Ben Bova (over 120 novels, 6 Hugo awards, former president of NSS and SFWA)

Jan 14: Fantasy and Science Fiction

Cory Doctorow (NYT bestselling Little Brother and Makers, BoingBoing blog, #5 Forbes top web celebs)
Mindy Klasky (bestselling and award-winning Glasswrights and Red Dress Ink series)
| | |
| --- | --- |
| | |
| | Matt's Comment: WHEW! So as you can see, I've been a busy boy! I hope you'll listen to the show and spread the word. |
---
Like the mob, you can't get out!



Last month I mentioned that I was finished with cub scouts. Well, I had to open my big mouth, didn't I? Iíve been asked to be the Bears den leader AND the Webelos den leader. So I only got a month break from cub scouts before they got me back in again. Since I have 5 boys, Iím guessing that itíll be a while before Iím truly out of scouts. Itís fun, though.

Here's a picture of my twin scouters and me. Aren't they adorable? I found that photo of my "giant" fish I mentioned last time. It seemed so much bigger when I was younger. I caught that in Provo river. A couple years ago I took my boys to Lake Powell and they caught dozens of striped bass--each a foot or two long. Since that was their first time ever fishing, I've kind of ruined it for them, since catching 100 fish in two hours is not typical!

Oh, I forgot to mention that Linda C. Thompson interviewed me last week on her radio show called The Next Best Thing. I basically talked about my book/agent/publisher, my house fire, my new radio show, etc. Check it out at http://www.modavox.com/voiceamerica/vepisode.aspx?aid=41624
---
I'll probably mention this in more detail next time, but Overdrive finally got my audiobook in their system! That is super exciting for me, because now libraries who use Overdrive can get my book and let patrons read it or listen to it on their computers, just as if they had checked out the physical book or audiobook at the library. I have four links for you. The first two are for people who want to order the book for themselves, and the last two links are for librarians to use to order the book for their library (go ahead and forward these links to your local library. hint. hint.).

Retail eBook (MobiPocket, EPUB, PDF, and MS Reader formats)

Retail Audiobook (MP3 and WMA formats)

E-Book for Libraries

Audiobook for Libraries

Can you believe itís been over 3 months since my house fire, and my insurance company still hasnít done any repairs to the house? The rental home weíre in is fine and all, but I miss my home office and neighbors... and I miss our backyard and my tortoise... and I don't like having to go over there all the time to hand water our trees/bushes since there's no electricity... and I miss having a bus to take our kids to school... and... Oh, well. Someday life will be back to where it was. Hope you guys have a Happy Halloween this month! Until next time....