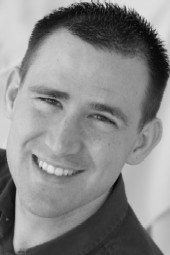 Matthew Peterson

Website Links

Home Page
www.ParaWorlds.com
My Radio Show Page
www.TheAuthorHour.com
Thursdays at 9 am PST / noon EST
Interviews are archived for everyone who missed the live show.
Forum
www.ParaWorlds.net
MySpace
www.MySpace.com/pworlds
Get a copy of Paraworld Zero

Paperback, Audiobook, E-Book
Click here for links to stores
Hello there! Hope your Halloween was fun. My 5 boys had a blast. Things are moving along for me. My book placed in another contest, I just sent my first query to an agent, a publisher in India offered to publish my book, and my radio show is really hopping. I've done 3 shows now (perhaps 4 by the time you read this), and you can listen to them at any time by going to my website at http://TheAuthorHour.com and clicking on any of the authors. I've also got some cool bonus questions I cut from the interviews that you can listen to or read, plus some video previews of the show. The next few episodes are going to be huge ones (Terry Brooks, Anne Rice, etc.), so tell your friends and family about the show.
---
Finalist in the National Best Books 2009 Awards and looking for an Agent!



Well, Paraworld Zero just placed in yet another book contest. It became a finalist in the National Best Books 2009 Awards in the audiobook category. That brings the count to around 15 contests it's either won, placed or honored in. I get asked all the time when my second book is coming out, and the sad news is that because I'm back to square one (i.e. no agent or publisher), it will take time before it gets published. Ironically, if you live in India, you might see it sooner than later, as a publisher in India has offered to publish Paraworld Zero and possibly Magical Learning. Funny how things work out. Better yet, I actually sent a request yesterday to an agent. Yep, it's true. The long wait is over. Things have finally settled down from the house fire that I'm now moving along to get an agent and publisher.

Getting an Agent: My first literary agent was Barbara Bova. She kind of fell into my lap because of a mutual friend, but it didn't work out so we parted ways. That's why it's important to do research on the agent you're going to approach. The normal procedure is to write a short query letter, send it out with a self-addressed stamped envelope and wait a month or so for a response (some agents allow you to email them). You can often send query letters to multiple agents at the same time. But when one of them asks you for your manuscript, you normally have to give him or her an exclusive (like a few weeks) to read it. Most often you'll get a form letter back from the agent saying no thanks. That's okay. Just try again with another agent. For those who are curious, I'll write instructions on how to write a query letter in a future newsletter or on my website.
---
November Episodes of The Author Hour: Your Guide to Fantastic Fiction
Nov 12: Classic Fantasy and Science Fiction

Ursula K. Le Guin (The Earthsea Cycle, Newbery/National Book/World Fantasy/Nebula/Hugo awards)
Brian Herbert and Kevin J. Anderson (NYT bestselling Dune, X-Files, Star Wars, Superman/Batman)
Anne Rice (International bestselling Vampire Chronicles and Mayfair Witches, 100 million sold)
Orson Scott Card (Bestselling Ender's Game, John W. Campbell award, multiple Hugo/Nebula winner)

Nov 19: Vampires

Charlaine Harris (NYT bestselling Sookie Stackhouse series / True Blood on HBO)
Laurell K. Hamilton (#1 NYT bestselling author of Anita Blake: Vampire Hunter & Meredith Gentry)
P. C. and Kristin Cast (NYT bestselling authors of the House of Night series)
L. J. Smith (#1 NYT bestselling Dark Visions, Night World and The Vampire Diaries, now a TV series)

Have a Suggestion for the Show? Since the show has been such a huge success, the network has given me an extra week this season. What authors would you like me to interview?
Our production team creates some cool eCards that I send out every week as a reminder of who I'm interviewing. CLICK HERE if you want me to send you an eCard every week regarding the show.
---
Video Previews of each Episode of the Radio Show
| | |
| --- | --- |
| | |
| | I've created some cool video previews of the first few episodes. Expect a new one every week. Here's a nice video I did for the entire season. You can watch the other ones by clicking on the individual authors for each episode. |
---
I mentioned this in my last email, but I'll mention it one more time here. If your library uses Overdrive (about 10,000 of them do), tell them to order the Paraworld Zero E-Book or Audiobook so more people can enjoy my book. Thanks!

Retail eBook (MobiPocket, EPUB, PDF, and MS Reader formats)
Retail Audiobook (MP3 and WMA formats)

E-Book for Libraries (MobiPocket, EPUB, and PDF formats)
Audiobook for Libraries (MP3 and WMA formats)

Well, here's a quick update on my house fire. It's been 4 months now. We were able to get a contractor to do a few days of work to gut the house, but we're at a standstill now because the insurance company won't budge. We're now going into a 2 to 4 month long appraisal process. Good grief! For those of you in the U.S., Happy Thanksgiving this month! Now's a great time to share with others. Until next time....