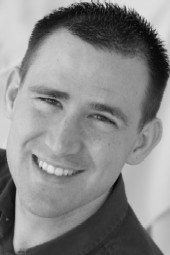 Matthew Peterson

Website Links

Home Page
www.ParaWorlds.com
My Radio Show Page
www.TheAuthorHour.com
Thursdays at 9 am PST / noon EST
Interviews are archived for everyone who missed the live show.
Forum
www.ParaWorlds.net
MySpace
www.MySpace.com/pworlds
Get a copy of Paraworld Zero

Paperback, Audiobook, E-Book
Click here for links to stores
Hello there! Hope your Thanksgiving was great. Now for Christmas. Yeah! Hereís a quick update regarding my books and radio show. The first season of my radio show is half over, but I still have some great guests lined up like Dean Koontz and Christopher Paolini. It's a ton of fun, but it's also incredibly time consuming--especially for a perfectionist like myself. I'm literally spending every waking moment on it. Anyway, an agent is looking at a few chapters of my book right now, so Iím feeling hopeful yet realistic (it usually takes many tries before one gets an agent). Also, it looks like the publisher in India is going to publish Paraworld Zero (and perhaps Magical Learning) in that country.
---
A Musical, Pre-School and Halloween (okay, a little late)




Last month my family took part in a musical about the pioneers who traveled from England to America and then across the plains. I was one of the few people in the cast (about 60 people) without any singing parts. Whew! Thanks goodness for that. I did have a couple lines of dialog, though, which wasn't too bad. My wife sang a duet. Oh, and my hair isn't really gray. Just thought I'd point that out!

The second picture is of Jared, my boy who just turned 3 years old and is now attending a special pre-school for handicapped kids. He's loving it, especially because he gets to wear a backpack like Dora. Yep, sad to admit, but my little boy is a Dora fanatic. It's all he wants to watch on TV . . . ALL day long!

The third picture is one of our Halloween. I realized that I didn't post it last month, so better late than never. I was Darth Vader.
---
December Episodes of The Author Hour: Your Guide to Fantastic Fiction



Have a Suggestion for the Show? Thanks for all of your suggestions. This season is just about filled up. I'm just waiting on a couple more responses.
Our production team creates some cool eCards that I send out every week as a reminder of who I'm interviewing. CLICK HERE if you want me to send you an eCard every week regarding the show.
---
Video Previews of each Episode of the Radio Show



I've created seven cool video previews of the first few episodes. Expect a new one every week. Here's a nice video I did for the entire season, though some of the authors like Dean Koontz and Christopher Paolini aren't on there, since they jumped on board late in this season. You can watch the other ones by clicking on the individual authors for each episode.

It took me some time, but I've finally added a bunch of linking tools on my site www.TheAuthorHour.com that should make it easier for you to share the interviews on your blog or website. Link away! Thanks.
---
| | |
| --- | --- |
| | |
| | Well, it's been 5 months now since our house was destroyed in a fire. Still no progress on re-building the house. We are very frustrated, especially since we were told that it will take 5 months to rebuild. Plus after 12 months, we may have to pay rent and a mortgage at the same time. Ouch! Never a good thing when you're not making any money... Well, I hope to change that soon. I just need to get an agent who can perform a miracle for me. That's all. Merry Chirstmas this month! Until next time.... |