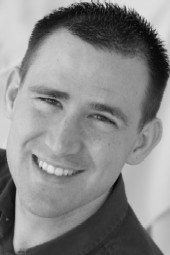 Matthew Peterson

Website Links

Home Page
www.ParaWorlds.com
My Radio Show Page
www.TheAuthorHour.com
Interviews with the top fiction authors of our day (I'm the host)
Forum
www.ParaWorlds.net
MySpace
www.MySpace.com/pworlds
Get a copy of Paraworld Zero

Paperback, Audiobook, E-Book
Click here for links to stores
Hello there! Have you ever found yourself hyperventilating on the floor and didn't know where you were or why you were there? Yep, that happened to me yesterday. I guess I fainted and bumped my head. That's what I get for skipping breakfast. Anyway, I have two big announcements: 1. My science fantasy novel, Paraworld Zero, is getting published this month in India (I'll talk more about this next month) and 2. They started the repairs on our house last week. Yahoo! Itís been over 8 months since the fire, so weíre very excited. It's going to be wonderful to get back.
---
The Future of Matthew's Radio Show
Well, as you might have noticed, Iím taking a break from my radio show (The Author Hour: Your Guide to Fantastic Fiction). It had become an all-consuming project that had taken over my life. The worse thing is that I was so busy running the show that I didnít even have time to seek sponsors (I didnít get paid a single red cent, though there were many intangible benefits). I'd still do it again. So in the future, I plan on having sporadic episodes here and there. Jim Butcher (#1 New York Times bestselling author of the Dresden Files) should be on the next episode--in April. The show is still very popular and I have a long list of authors who want to be on it, but I need to prioritize my life. Iíll keep you posted.

Back by popular demand: I'm giving away my book for $5 (normally $16.99) plus the cost of shipping. U.S. orders only. Just click here to order and enter this code when you check out: discountbook
---
| | |
| --- | --- |
| | |
| | One of the things Iím doing in the next two months is school visits. My wife is being an angel right now and is scheduling them for me. In the Phoenix metro area, Iím waiving my normal fee of $500 and Iím giving away my book for $5 to the kids--so I can at least break even. I canít be so generous outside of the Phoenix area, but if youíre a librarian/teacher and youíd like me to visit, contact me and Iíll see what I can do. Get more info about my presentation at http://paraworlds.com/visits/ |
---
Our House is Being Rebuilt!
| | |
| --- | --- |
| | |
| | Like I said earlier, the construction people started working on our house last week. They are really cruising along. I'm guessing they'll have it all finished in the next 4 months. This has been incredibly time-consuming and stressful for us, but at least the insurance company made an entire 360 in our favor. One little thing I splurged on was getting cat6a cable throughout the house. Yes, I'm a geek. For those of you who don't know what cat6a is (probably most of you), it's a newer cable that allows you to have a 10 gigabit network (10 to 100 times faster than what most people have). [Cue the dramatic music] Wha ha ha ha! The power! |
---
Iím officially calling myself unemployed at the moment, which means Iím in search of a normal job--probably as a programmer, website developer or even in management. Yeah! My wife is doing cartwheels right now. Since I lost my job 3 years ago, my world has been turned upside down, and I must admit that continuing that job (though I enjoyed it) would have actually caused some considerable strain during our 3-year continual crisis, so it was almost a blessing in disguise that I was laid off. Raising a child with a heart condition and a million other health issues, managing ten online high-risk businesses at the same time (all dealing with hundreds of thousands of dollars), having my house destroyed in a fire, seeing my writing career crumble before my eyes (even as my book sat on a bestseller list) because my publisher ran out of money and couldnít support the demand... etc... etc... etc... has taxed my family to no end. I need some stability in my life while I wait for a new publisher and write my third book, so I will be going back into the workforce.

The reality of the publishing industry is that it usually takes 1 to 2 years to get a book published AFTER youíve signed the contract! It can take several months for an agent to get that contract in the first place. It can also take months or even years to get a literary agent. All together, thatís a lot of months and years to be waiting around. The agent I have my sights on is known to take 10 months to respond (and that response could be a no!).

A lot of people donít realize that I started writing Paraworld Zero around 2002... well, 1990, if you want to get technical. I finished writing it around 2004. I got my publisher in 2006, and my book was published in 2008. Now, once an author has landed that dream publisher, things speed up from there. After that, it only takes about 12 months per book, since the agent and publisher part are already in place. Since I lost my publisher and agent, Iím somewhat back to square one.

Speaking of agents... Remember a while ago I mentioned that my literary agent was Barbara Bova? That was such a strange experience. Youíd think Iíd be elated to have such a prominent agent (she represented Orson Scott Card and Ben Bova), but for some strange reason I never felt peace about having her as my agent. We soon realized that we werenít right for each other, and we went our separate ways (her expertise wasnít children's fiction in the first place). Well, I learned some sad news: Barbara passed away a few months ago from cancer. Very sad. I spoke with her just a couple weeks before it happened.

Well, that's enough rambling. My wife's parent's 50th wedding anniversary celebration is today and I've got to get ready. Talk to you next time....