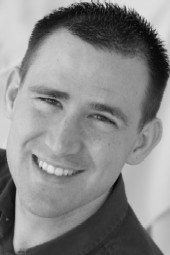 Matthew Peterson

Website Links

Home Page
www.ParaWorlds.com
My Radio Show Page
www.TheAuthorHour.com
Interviews with the top fiction authors of our day (I'm the host)
Forum
www.ParaWorlds.net
MySpace
www.MySpace.com/pworlds
Get a copy of Paraworld Zero

Paperback, Audiobook, E-Book
Click here for links to stores
Boy does life go by fast? My wife and I just celebrated our 13th wedding anniversary. We sure have gone through a lot together. Now that weíre back in our home, it seems like the last year was just a dream... but then I notice we still donít have blinds on the windows and the memory of the house fire comes flooding back. Yeah, itís been two months now with 100+ degree blistering weather and weíre still waiting for the dumb blinds from the insurance company. Arrg!
---
Highlights from the Publishing World
Looking at the recent news, Iíve seen reports of declining sales at Barnes & Noble and Books-A-Million for this quarter but instead of gloom and doom, what I wanted to point out is the new Amazon Kindle 3. A few places like Publishers Weekly have given it rave reviews. In a nutshell the Kindle 3 is faster than its predecessor, has a more crisp screen, and is a little smaller and lighter (about the width of a pencil and the size of a trade paperback book). It also has a built-in book light that works when the Kindle is in the case. When it comes to reading ebooks on the go, I hear that nothing beats the Kindle. If you want more multimedia features, then I hear the iPad is the way to go. Me... well... I'm still reading and listening to books from my 5-year old Microsoft Pocket PC. Works like a charm. It'll be a sad day in my life when that thing dies.

So everyone and their dog is talking about the new Suzanne Collins book called MockingJay, which ends the Hunger Games trilogy. Its on my long long list of book series to read and, ironically, Suzanne was one of the very few authors I was not able to book for my radio show. Suzanne had some pressing deadlines last year when I contacted her publicist, so that was understandable. Has anyone read The Hunger Games? Would you say they're worthy of the hype?

Eoin Colfer's Artemis Fowl series may be coming to a close with his latest book: Artemis Fowl and the Atlantis Complex... at least that's what Eoin told me when I interviewed him a while back. One of my twins bought the Atlantis Complex with his own money, which also happend to be the first book he's ever purchased. Good choice! He read it in a snap and wanted to talk to me about it, but I don't like to hear anything about books or movies before I read, listen, or watch them. The Artemis Fowl series is one of my favorite ones and Eoin Colfer was one of my favorite authors to interview. I noticed that a library in Ireland where Eoin lives picked up my book, Paraworld Zero, in digital format and I'm sure Eoin or at least the interview had something to do with that.

The book I'm reading right now is The Giver. I'm very intregued so far, though I remember seeing a movie a couple years ago that had much of the same premise.
---
Camping and Freezing Water!

Matt Jumping off Cliff / Jared getting a piggy-back ride from his Momma

Once a year, we go camping with my wifeís family. This year was a little different, since we stayed in a big mansion-like cabin in the woods. We swam in Fossil Creek, which has to be one of the coldest rivers Iíve ever experienced. Actually, after the hyperthermia set in, it wasnít too bad.

We went canoeing, hiking, cliff jumping (yep, thatís me in the picture jumping off of a cliff), etc. I even fed my toes and fingers to some fish. Ever seen the movie Parana? Those little minnows were attacking me! My boys were very impressed when I caught a crawdad with my hands. Theyíd never seen one before (they look like miniature lobsters). All in all, we had a blast. A good way to end the summer.

Speaking of vacations, my wife told me on Wednesday that she was taking the kids to Utah (a 10-hour drive) the next day to visit my family because my brother from Canada was going to be there with his family. Evidently, My wife suddenly got this urge to see their young daughter who is disabled.

So I called Alicia on Thursday from work to express my concerns about her impromptu trip. If she delayed the trip until next week, I could probably come and my brother and his family would still be there. She said she was leaving in 15 minutes, the suburban was packed, and the kids were ready to leave. But she finally consented to wait. Good thing she did. My brotherís family ended up staying in Canada because his daughter got bronchitis and may need to be hospitalized!
Matt and Jared in the freezing water / David and Dean rowing the boat
---
First Day of School for my Kids and for Me

First Day of School

My boys started school this month... and I started working for a local school district. Yep, I got the job that I referred to in my previous newsletter! Iíll be programming and managing the web applications, databases, network, etc. for the district. I guess you could say Iím the right-hand man for the director.

We're in chaos mode right now with the new school year starting and because of a new student management system we've implemented. Right now I'm working long hours (a few 12-hour days) so I can learn everything, but I hope to get back to my writing in a few weeks when things start to settle down. A huge plus is that work ends at 4:30 p.m. and thereís only a 30-minute drive home.

I canít help but recognize that me getting this job right now was not just a happy coincidence. Even though I was sending out my resume to dozens of places, my family prayed specifically that Iíd get the ďschool job.Ē As with so many other things in my life, God answered.
---
Well, that's it for this month. Thank you everyone who donated to Hope Kids last month (see the photo of Jared above? How could anyone ever say no to that little mug?). If you didnít get a chance to donate, you still can at http://firstgiving.com/jaredpeterson

I thought Iíd end this newsletter with a funny dream that my wife had recently. She was being chased by a giant wolverine. Donít ask me why it was a wolverine (they're actually pretty small creatures) but she said "it was bigger than the werewolf in Harry Potter 3." Now I ask you, what would you do to stop a ferocious creature that was chasing you? Shoot it with a machine gun? Use pepper spray? Jump into a helicopter? Nope! In my wifeís dream, she stopped it by feeding it a large cucumber. So remember, next time youíre being chased by a scary monster... like a debt collector or a telemarketer who just won't leave you alone... try offering them a scrumptious cucumber and all your problems will go away. Until next time....