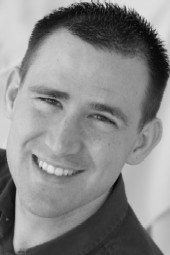 Matthew Peterson

Website Links

Home Page
www.ParaWorlds.com
My Radio Show Page
www.TheAuthorHour.com
Interviews with the top fiction authors of our day (I'm the host)
Forum
www.ParaWorlds.net
MySpace
www.MySpace.com/pworlds
Get a copy of Paraworld Zero

Paperback, Audiobook, E-Book
Click here for links to stores
Hey there! I should have another author interview on www.TheAuthorHour.com for you soon, so keep your eyes and ears open for that. I canít believe summer is almost over. For me, it ends tonight, as school in my district begins August 1st. When I was a kid (oh so many moons ago) school didnít start until September. Crazy!
---
Recent News in the Book Industry
You may have heard me rant about the woes of online sales tax in the past. Well, the heat is really about to start. California just passed an online sales tax law. In retaliation, Amazon has decided to fire its 10,000+ California affiliates so that the company won't be forced to charge sales tax to all of their California customers, regardless if they're buying something from one of the California affiliates or not.

In other news, according to Nielsen BookScan, print books dropped 10.2% in the six month period ended July 3, falling to 307.1 million. The biggest decline came in adult fiction with units off 25.7%. I have to admit that I was a little surprised to hear this but then I quickly realized that people are probably just shifting over to Kindles, Nooks, and Sony Readers. eBook sales have had a dramatic increase in sales.
---
My First Camp as Scout Master



Well, my first scout camp was definitely one to remember. Two tires on the trailer went bad at the same time, and it took us over 3 hours to get them fixed and replaced. We eventually lifted the whole trailer up and had one of my boys slide under it and place the jack beneath the axil so we could get the tires back on.

Despite the tire difficulties our patrol leader said it was the funnest scout camp he'd been on so far. That's certainly encouraging.

We made our own shelters and slept in them. One good thing about being the boy scout master is that I'll get the chance to spend more time with my twins. It's really time consuming, though.
---
This newsletter isnít too long, but what do you expect when Iím writing my July newsletter three hours before the month ends? Life just never slows down. I truly do hope youíre doing well. Have a great rest of the summer. For me that'll only be a few more hours, but íll try to enjoy them while they last.

Until next time....